We Shall Not Forget: Memories of the Holocaust
Edited by Carole G. Vogel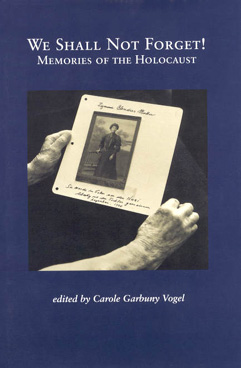 This book contains an essay written by Carole Vogel's father,
describing his escape from Germany.
We Shall Not Forget: Memories of the Holocaust is the story of the impact of the Shoah within one American Jewish Congregation—Temple Isaiah in Lexington, Massachusetts. In its pages, written by Holocaust survivors and the sons and daughters of survivors, the reader meets the individuals who endured the nightmare of nightmares and lived to tell about it.
Many of those whose experiences are recorded in this book were reluctant to tell their stories to an audience beyond their kin. Some claim to be unworthy of being considered Holocaust survivors because they left before war broke out. Readers, however, will have no doubt that they are indeed survivors: survivors of shattered childhoods, devastated communities, confiscated property, interrupted educations; survivors of families and friends who didn't survive; survivors of brief goodbyes, and no good byes, and goodbyes that never go away.
Each of the forty-two stories speaks for itself. The histories are edited to varying degrees, depending on the preference of the writer. They include the destruction of the Jewish communities in Eastern Europe, Western Europe, and Greece; histories of escape from the Nazis; life as a hidden child; survival in ghettos and concentration camps; as well as histories of growing up in genocide's aftermath.
Praise for We Shall Not Forget: Memories of the Holocaust:
"I believe in testimony. It is important, maybe urgent, that those who survived the Kingdom of Night bear witness, for only they know the truth of what transpired there. I commend Temple Isaiah for its publication of these 42 eyewitness accounts" — Elie Wiesel
"We Shall Not Forget! is more than a book, it's a treasure trove that spans across Europe and covers Jewish life before, during, and after World War II. A gamut of recorded memory beginning with survivors' stories from Austria and Germany, chronologically the earliest Nazis' victims who escaped in time to save their lives…The geographical scope widens by the inclusions of histories of survival in hiding, ghettos, and concentration camps in Poland and Lithuania, the roundups and deportations from France, Holland and Greece to the death camps of Auschwitz, Treblinka, Sobibor and Bergen-Belsen.
"Most of the survivors or their children whose testimonies appear in We Shall Not Forget! have listed the names of their family members killed in the Holocaust, painstakingly noting their places and dates of birth…Carole Garbuny Vogel, the editor, accounts for at least 100 members of her Sadunischker relatives in Germany and Lithuania, and her Lowy family of Austria, who perished in the Holocaust.
"All told, the book records more than 1,000 names. Over 200 precious photographs of family members are reproduced in the book. Many were diligently collected on visits to Europe and Israel. It is a beautiful collection of good-looking family members from a vanished world—many of them showing three generations of prosperous Jews whose lives were so brutally destroyed…
"The 513-page volume is a remarkable achievement by it editor and her dedicated team of assistants, sons and daughters of Holocaust survivors, mostly members of Temple Isaiah's Holocaust Discussion Group. Some of them are professional writers and graphic designers. The high quality of the book reflects the group's talent." — Together, a publication of the American Gathering of Jewish Holocaust Survivors
Published by Temple Isaiah, Lexington, MA: 1995

513 pages

For adults and teenagers

ISBN 0-9637686-0-3

More than 200 black and white photographs