The Man Who Flies with Birds
by Carole G. Vogel and Yossi Leshem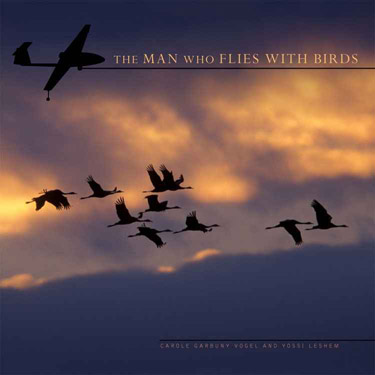 Yossi Leshem, a world-renowned bird expert, soars with eagles—and with storks, pelicans, and other high-flying birds. Using a silent glider, motorized only for takeoff and landing, Yossi can stay aloft among bird flocks for eleven hours. By tracking the migratory patterns of the 500 million birds that pass over his nation each year, he has been able to significantly reduce the number of bird/airplane collisions.
Since early childhood Yossi has been fascinated by birds but it wasn't until he reached his mid-thirties and learned about birds striking planes that he began his life's work of studying and eventually flying with migratory birds. Spending so much time in the air, made Yossi acutely aware that birds have no boundaries. He wondered if a shared concern about birds could be used to connect people of different nationalities. This unique nature book is based on Yossi's research, and offers new insights into the science of migration, examines the impact of changing ecological and cultural conditions on birds, and tells the story of one man's mission to protect the environment and make peace in the Mideast one bird-lover at a time.
Illustrated with beautiful color bird photographs, The Man Who Flies With Birds is a must for bird-watchers, nature lovers, and flight aficionados as well.
Accolades:
2010 – The Man Who Flies with Birds was named a Sydney Taylor Notable Book
2009 – The Man Who Flies with Birds was named a Smithsonian Notable Children's Book
Reviews:
"Leshem's fascinating life, his undaunted determination to spread awareness of birds and wildlife protection, and his amazing accomplishments are a clear indication that anything is possible… This inspiring title on a most timely topic will appeal to those who are fascinated with wildlife, Earth science, and technology." —School Library Journal
"Vogel's well-paced text explains how Leshem became interested in nature generally and bird migration specifically and describes the tools and practices he has developed… The book highlights the ways in which applied science can support not just national and commercial interests (and vice versa) but also international goodwill and global conservation."— Horn Book
"This is a fascinating study of Yossi's love for birds and his passion to prevent [bird] strikes…. This book will spark interest in birds and scientific research." —Library Media Connection
"I never thought about the importance of looking up to the amazing things that happen in Israel's skies. The carefree borderlessness of the storks, the honey buzzards, and the pelicans is humbling. They don't know Jordanian airspace for Israeli and can't be taught to care. So Yossi Leshem taught the humans to care. His extensive research into migratory patterns taught pilots throughout the region to keep themselves—and birds—safe." – InterfaithFamily.com
In January 2009, a U.S. Airways jet collided with flying geese on takeoff from New York City's LaGuardia Airport. Birds were sucked into both engines, destroying them on impact.  The pilot, Captain Sullie Sullenberger, made a brilliant emergency landing in the Hudson River and all aboard survived.  This happened a couple days before The Man Who Flies with Birds was scheduled to go to the printer. Carole readily convinced her editor to delay publication by a week so that the miracle crash landing could be worked into the book.
A few months later, the publisher of The Man Who Flies with Birds met Captain Sullenberger at BookExpo America and asked him to pose for a picture with the book. Captain Sullenberger obliged.  He was already familiar with the book because Yossi Leshem had forwarded a copy of the layout to him before it was published. 
Published by Kar-Ben Publishing, a division of Lerner Publishing Group, Inc.
Jacketed Hardcover
64 pages
Color photographs, maps and illustrations
Ages 10 and up
ISBN 978-0-8225-7643-3
$18.95
To purchase: order by phone: 800-4KARBEN or online at Kar-Ben.