The Dangers of Strangers
by Carole G. Vogel and Kathryn A. Goldner
illustrated by Lynette Schmidt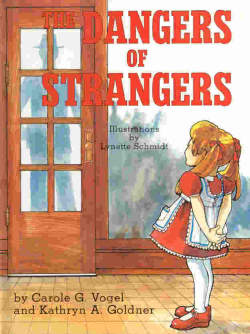 One of the most difficult tasks that parents face is teaching their children that not everyone is nice. But all children, even very young ones, need to know that there are people who may do them harm. Some children may be badly frightened by this idea. One way to introduce them to it is by reading fairy tales such as Little Red Riding Hood and Snow White, and then discussing the actions of the characters involved.
The Dangers of Strangers is a picture book that helps children understand what a stranger is. It shows them how to recognize and avoid dangerous situations with strangers. It teaches them that have the right to say "no" when they feel threatened by an adult or older child.
It is easier to warn children about the dangers of people they don't know than to tell them to be cautious with the people they see regularly. No one wants his or her child to be fearful of everyone. However, most children are not abused by strangers, but by people they know. Children need to be able to recognize inappropriate actions, not only by strangers, but by people they know and trust.
Children who are informed and who have learned to say "no" are better able to protect themselves. The Dangers of Strangers is a first step in this learning process.
Praise for The Dangers of Strangers:
"I was so impressed with The Dangers of Strangers that I scheduled it as the lead title on an up-coming special surveying cautionary books for young readers from pre-school through adolescence… It the best of its kind I've seen in 12 years of reviewing." – James A. Cox, Editor, The Midwest Book Review
"The Dangers of Strangers addresses a serious problem confronting pre-school and primary children—how to deal with advances made by strangers. The book discusses the problem in a direct and forthright manner, and could serve to open up discussions between parents and children regarding the dangers of being victimized by other adults…" – Curriculum Review
"…its long past time for books like this to buttress the teachings of concerned adults, parents, and others…" – Publishers Weekly
"Child abuse is a wide-spread problem… This pioneering book seeks to prevent injury to naïve youth and it stresses the "NO!" response to strangers." – 2 star review AAAS Science Books & Films
"The Dangers of Strangers is not a comfortable book. But, with growing awareness of child abuse in our country, it is timely and realistic. It will be of interest to parents and teachers of preschool through second grade children, and is suitable for church and school libraries. Urgency of discussion among children with whom I shared the book indicated that many children are scared and unfamiliar with open discussion on the topic… It is a thoughtful parent who will review the topic frequently enough so that the children absorb the information and feel prepared to avoid harmful situations." – Augsburg Book Newsletter
"[The book] will go far in arming a child against danger. Parents may find it a helpful bridge over a troublesome exchange." –"About Books," American Library Association's weekly syndicated column.
"The authors are to be commended for their honesty and informed awareness of the problem of the "friendly stranger." – The Washington Times Magazine
Published by Dillon Press, Inc., 1983

32 pages

Ages 2-8

Full-color and two-tone illustrations