Shock Waves Through Los Angeles: The Northridge Earthquake
by Carole G. Vogel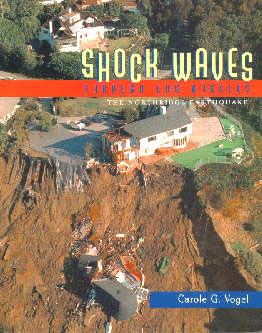 Earthquakes have shaken southern California throughout its history, yet most residents believed that their own chance of experiencing a major quake was quite small. In the predawn darkness of January 17, 1994, the devastating Northridge earthquake jolted the residents of Los Angeles out of their complacency. In less than a minute, the quake toppled seven highway bridges, damaged more than 100,000 buildings, and spawned dozens of fires.
   Mixing lively narrative with stunning, full-color photographs, Carole Vogel describes the incredible destruction, recounts heroic rescues, and documents the struggle of survivors trying to rebuild their lives. In clear and compelling language Vogel provides the latest scientific insights into the geology of earthquakes. Maps of the Los Angeles area and fault zones, as well as diagrams of three varieties of faults, round out this account of one of nature's most astonishing events.
Praise for Shock Waves Through Los Angeles:
"Vogel adeptly walks the line between scientific information and the irresistible fascination with disasters…and she puts it all at child level… The geologic reasons for the temblor, the resulting chaos, the thrilling rescues, the plans for future safety, and the likelihood for more quakes are all explained clearly and vividly. Large color photographs, along with map and diagrams, do the rest, giving children a chance to see for themselves what really happened, without the inclusion of any grisly images." — Booklist
This brief, well-illustrated book does a good job of describing the 1994 Northridge earthquake. In clear prose, Vogel describes the cause, the losses, and the cleanup after the massive quake with sensationalizing her depictions…The profuse full-color photographs are carefully selected and captioned to extend the information presented in the text…. For those who need information about this specific quake…this is the best choice so far. — School Library Journal
Accolades:
1997 Children's Literature Choice List. Children's Literature, a national monthly newsletter of children's book reviews, recognized Shock Waves Through Los Angeles: The Northridge Earthquakeas a book of excellence.

The Horn Book's list of recommended books on natural disasters. In 1997, the editors of the Horn Book compiled a list of books to help young people understand various natural disasters. Two of the nine books on the list were by Carole G. Vogel, including Shock Waves Through Los Angeles: The Northridge Earthquake.
Published by Little, Brown and Co., 1996
32 pages
Grades 3-8
ISBN 0-316-90240-3
40 full color photographs
full color maps and diagrams