Nature's Fury: Eyewitness Reports of Natural Disasters
by Carole G. Vogel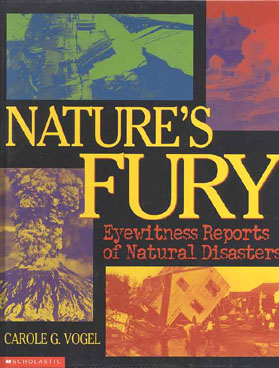 Tornadoes, blizzards, hurricanes, wildfires—read for yourself the eyewitness accounts of people who faced 13 different natural disasters and lived to tell about it. Their stories are taken from historical archives, newspapers and other published sources, and from personal interviews and correspondence. Dramatic photographs add to the excitement of reading about those who survived nature's fury, whether their account is from 1871 or 1980.
Carole Vogel has gathered accounts showing the courage, ingenuity, and resilience of survivors in the face of natural forces that cannot be controlled. The result is a thrilling, inspiring, and very real view of what it is like to face nature's fury and survive.
Read what Carole Vogel has to say about the writing of this book!
Praise for Nature's Fury: Eyewitness Reports of Natural Disasters:
"This edge-of-the-seat book will find its way into the backpacks of many children. It's chock-full of eyewitness accounts of 13 disasters… Especially enthralling are Vogel's interviews with survivors, some of whom were children as the time of disaster." —Booklist
"For each disaster Vogel has found at least one first-person account by a survivor. The result is gripping." —Philadelphia Inquirer
"The eyewitness perspective is what makes this book a real page-turner!" —Children's Literature
"'I choose my stories by the action verbs I can use,' children's-book author Carole Garbuny Vogel once told an interviewer for the Boston Globe. 'If it doesn't hop or skip or rage, it doesn't have enough action and I wouldn't be excited by it.'" Vogel loves the elemental drama imposed by raging nature, and she has made a name for herself writing about disasters… While natural disasters are far from her only subject (she won an award for Will I Get Breast Cancer? Questions & Answers for Teenage Girls), she returns to it with a vengeance in Nature's Fury… Suffice it to say that Vogel gives us action verbs aplenty, in a book that is riveting and irresistible." —-Kenyon College Alumni Bulletin

Accolades:
Winner of the 2001 Boston Authors Club Book Award

A Children's Book of the Month Club alternate selection

A recommended book in the Missouri State Teachers Association's Reading Circle Program